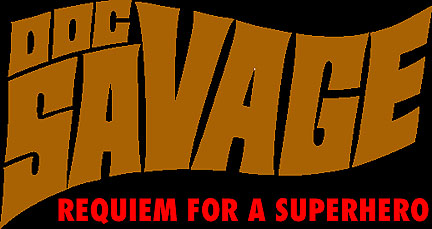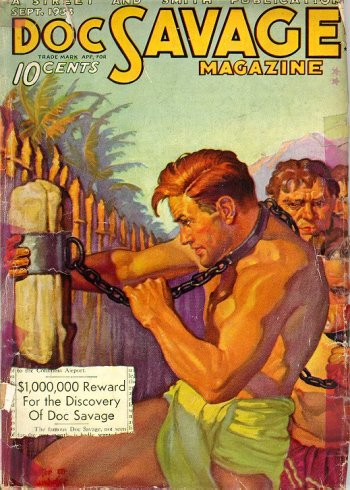 The Man of Bronze. The mere mention of those words can send a palpable chill run down the backs of any Doc Savage fan, the 15 year old inside quivers with excitement at the mention of anything associated with his legend. To many readers, Doc Savage was (and still is) the ultimate adventure hero.

Doc's genesis came at the hands of three men, Henry Raltson, John L. Nanovic and Lester Dent.

Henry Ralston was a business executive at Street & Smith Publishers, the largest and perhaps most famous of the pulp houses. Street & Smith had, in 1931, sponsored Street & Smith Detective Hour on NBC radio, hosted by a mysterious, gravel-voiced announcer who called himself The Shadow! This character caught on with the public and Ralston saw immediately its potential for success. He commissioned Nanovic to edit a magazine about the character and hired writer Walter Gibson to write the first Shadow adventure. The premiere issue sold out and Street & Smith began publishing new adventures every month.

A year later, Ralston came up with a new concept: a scientific hero in direct contrast to the mysterious Shadow, a virtuous, two-fisted hero like the dime-novel heroes of his youth. Ralston envisioned a supreme adventurer. Now they needed a writer. Enter Lester Dent.

Dent was an incredibly prolific writer and inventor from Missouri. He was hired by Street & Smith to write a Shadow adventure. When Ralston and Nanovic saw how talented and imaginative Dent was, they let him in on the Doc Savage idea. Dent took to it straight away, and began fleshing out Doc and his five amazing companions: Monk, Ham, Renny, Johnny and Long Tom.

From 1932 to 1949 Dent wrote the majority of the Doc Savage adventures under the by-line Kenneth Robeson. Several other Street & Smith writers filled in on occasion, but it was Dent who created the best and most memorable entries.

In 1949 the magazine folded. Sales were down and the financial straights of Street & Smith were, like the last of the pulp publishers, not good. For many years Doc languished in obscurity, then in 1964 Bantam books began to reprint the old Doc Savage adventures in a numbered series. This was an unusual move at the time but the first three editions sold incredibly well and Bantam went ahead with their campaign to publish all of Doc's novels.

It was twelve years after Bantam began reprinting Doc's adventures that I discovered him. I was eleven and already an avid reader of science fiction and fantasy. I was living in my home town of Maple Ridge, just outside of Vancouver, and browsing through used a bookstore (which today is a real-estate office). I was looking for book for a trip I was taking with my family, when I came across one of the Bantam reprints. The first thing that attracted me was the strikingly realistic cover painting by James Bama, the artist for the Doc books into the 1970's. The book cover showed Doc, in his traditional torn shirt, fighting off a pair of huge rat-like creatures. The book was The Other World, an adventure in which Doc and his crew find a lost world filled with long extinct creatures. I remember I'd bought it along with the promise of dinosaurs and other monsters, and I was not disappointed.

That first adventure was electrifying to me. I was gripped from page one right to the end. I'd never read anything like it. From that moment I was hooked. I couldn1t get enough of Doc Savage and his adventures.

I began buying more old reprints. Bantam was still publishing the reprints, and I faithfully bought the newest one every month from my local drug store. That new purchase was a magical event for me and looking back on it, I realized that it was the closest I could possibly get to being a kid during the thirties, waiting patiently for the latest issue of Doc Savage Magazine and then greedily devouring the story.

Of course, in 1978 the books costs $1.50 each, nearly all of my allowance when I was twelve. But they were well worth it. And occasionally I could find an older reprint in a used book store for as little as twenty-five cents. (Mind you, these prices seem ridiculously low today when an average paperback will run you at least $7.95 Canadian.)

I was basking in the middle of a Doc Savage renaissance. Marvel Comics began publishing a black & white magazine of new comic book Savage adventures, and George Pal had made a film out of the first novel, Doc Savage: The Man of Bronze. I was in Doc Savage Heaven.

Eventually, however, as all do when that two-headed monster, Age and Maturity, crept up on me, I moved away from Doc and his amazing aids. I stopped collecting reprints (which Bantam had to release as double novels at the time, sales having started to drop) and instead began reading newer and more challenging fantasy works: Samuel R. Delaney, Philip K. Dick, Robert Silverberg, Gibson, Sterling and Brin, to mention only a few.

Eventually Bantam had to release Doc's adventures in omnibus editions, four to five stories per book, and charging $5.95 (Canadian) for them. I paid little attention at the time, and so too, unfortunately, did many others.

Then, in the late 1980's, a second Doc renaissance began. Doc and his group made a brief, uncredited, appearance in Dave Steven's popular The Rocketeer comic (although Doc did not make it into the big-screen version (for that, Doc became Howard Hughes). Afterward, DC Comics published a new Doc Savage comic featuring an updated hero. The comic had little to recommend it and sales were dismal.

DC eventually sold the rights to a smaller comic company, Millenium. Millenium had writers who knew and loved Doc Savage, the way he was in the books. New adventures were written, set in the thirties and filled with references to the old adventures. Here were the characters represented faithfully to the way Lester Dent had first envisioned them.

At that time, Bantam finished reprinting the old adventures and began publishing new Doc Savage novels, the first in 40 years. They began with Philip Jose Farmer's Escape From Loki, and continued with Doc Savage historian, Will Murray, writing under the traditional Kenneth Robeson pseudonym. Python Isle and White Eyes followed. The Frightened Fish , a direct sequel to The Fortress of Solitude and The Devil Ghengis, features the return of old Savage villain, John Sunlight! These stories are based on outlines written by Lester Dent but never expanded into full novels.

It took a bit of time, but finally I sat up and took notice. I began to rekindle my old fascination with Doc and his pals and his wondrous adventures. I finally pulled out my old collection of Bantam reprints and took stock. I'd actually been closer to completing the collection than I had thought I had. I caught up with the omnibus editions and found that I was missing a mere 30 of the 181 supersagas. I was suddenly aware that my goal was in reach!

I hope we are in for another Doc Savage renaissance. I intend to enjoy it fully. But even if we're not, I will always be a Doc Savage fan, and I will likely be found lurking amongst the shelves of used book stores, looking for that rare gem, or more appropiately, that little bit of bronze, that is not yet part of my collection.

---
For much more about Doc Savage than I could ever tell you, visit Chris Kalb's excellent site Welcome to the 86th Floor. A must see site for Doc Savage fans!
---
Back to SAVAGE:The Bronze Journal