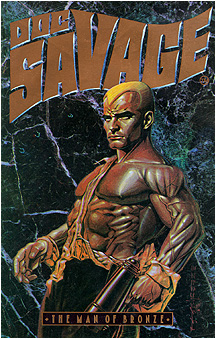 by M. D. Jackson and G. W. Thomas
THE BRONZE JOURNAL is a magazine/file devoted to articles about Doc Savage and about hero pulps in general. It will be updated from time to time with articles and artwork as well as links to other Doc Savage sites.
The Bronze Journal is one of a growing number of websites devoted to the legendary hero from the 1930's and, I hope, is contributing in some small way to keeping Doc's legacy going.
---
Two articles by The Bronze Journal's new partner G. W. Thomas. G. W. Thomas lives in Central British Columbia. His work has appeared in WRITER'S DIGEST, THE ARMCHAIR DETECTIVE and the potter's magazine, CONTACT. He makes and sells horror art, including sculptures of famous monsters.

Tinker, Tailer, Soldier, Spy
Doc Across the Genres

Copies in Bronze
Zarkon, Lord of the Unknown
---
Doc Savage: The Animated Adventures
What a Doc Savage Animated Show might look like
What's Up, Doc?
Why Kenneth Robson doesn't write anymore.
Doc on the Silver Screen
A reveiw of George Pal's 1975 film.
The Art of Doc Savage
Doc Savage in pictures from the 1930's to the present
The Man of Bronze
A paean to a boyhood hero, the legendary crimefighter from the pulps of the 1930's.
Bronze Links
Doc and assorted Adventure Pulp Websights

---
---
M. D. Jackson
P. O. Box 187, Creston, B.C. V0B 1G0
advance@kootenay.com

G. W. Thomas
417 Claxton Crescent, Prince George, B.C. V2M 6B8
aa296@pgfn.bc.ca

---